 Relentless Trainer
Follow a training plan that is tailor made for you and adapts to your progress continuously.

This is the new way to train.

This is the future.

Join the Ai revolution now.
MAIN FEATURES

The Relentless Trainer designs a long term training plan for you according to your goals.

You decide how long every session is going to be.

You specify what equipment that is available.

The plan is always at your level. Stop scaling or substituting!

Every exercise has a progression that takes you forward based on your performance.

Skill progressions help you learn advanced technical movements over time.
Super exciting concept with a good spread of exercises and a compound that fits me! I also like that I can adjust my preferences prior to the session and that I can follow my development.
- Hanna

We use a massive database to calculate the most efficient training methods
300 000
training sessions
with over
30 000
athletes
Smooth! Just click on how much you want to spend on training and go! I like that I quickly can adjust my available equipment and still get an individual plan, adjusted to my goals. It makes the training plan very flexible!
- Helen

How can the Ai-trainer know what's best for you?
Every training plan is based on information. This information is simply data that can be put into a training system that produces a training plan.

In this way there is no difference between a man made training plan and the one our Ai produces.

The difference is that a computer can keep track of much more factors than a human ever could.

All the data that you put into the system is used to determine what the best way forward is. Instantly.

So, besides basic factors like your age, gender, bodyweight, training results and overall performance in the past the Ai also uses daily mood, fatigue, sleep, training performance from session to session and how you are progressing in the lifts you are currently focusing on.

We are also adding skill progressions so you can utilise the power of this ai-trainer engine to get better at that elusive handstand walk you've always wanted to master!
This is the future

No training plan is perfect because it cannot take future events into account. The only solution to this is to adapt the plan to whatever comes up when it comes up. Not two weeks later. This system is the only affordable solution to that problem.

Stop following fixed plans made to fit a large group of people to increase sales.

Follow the system that is tailored to you and you alone.
You'll never miss a session. The traditional plans continue week after week. If you get sick or if you go on vacation then you miss out on a lot of training. The program can be somewhere where you are not prepared for it. This never happen with the Ai. It's there for me when I am ready again with a session based on my readiness. I have not missed a thing, the trainer waits til I am ready to move.
- Tanja

After retiring as a professional athlete I wanted to stay in shape but I wasn't ready to put a lot of time and effort into making a training plan myself. I just wanted someone to tell me what to do but I needed it to be smart. The Relentless Trainer is perfect for exactly that and the best part is that I don't have to commit to fixed training times. I get a great training plan that adjusts to me, my situation and my goals on any given day. I highly recommend it!
- Ásdís Hjálmsdóttir, triple Olympian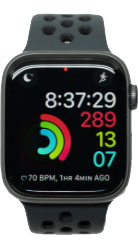 You can connect your favorite fitness data apps and trackers to the A.i. to help it determine your current readiness state and what type of training and load should be prescribed.
We have integrated all the major brands and keep adding more continuously.
Trackers currently compatible with us: